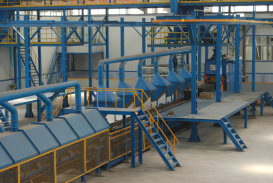 KY41 series vertical parting boxless injection pressure automatic molding line performance characteristics:
● Vertical parting, no sand box, full automatic, continuous high speed, sand pre-compacting, hydraulic compaction forming, suitable for large-scale production of coreless coreless small and medium castings in various industries.
● The new generation modeling host has the functions of front and back surface compaction and automatic cavity adjustment.
● Man-machine dialogue interface, within the defined scope of use, various technical parameters of the machine can be adjusted and set on the computer screen.
● The molding line is controlled by microcomputer, using imported advanced components such as PLC , position sensing element, pressure sensing element, liquid crystal display, etc., to realize the automatic and stable operation of the process and the dynamic input / output animation monitoring, fault query and alarm functions. Can achieve remote control.
● Compared with similar molding lines, the complete set of functions such as automation control, electromechanical integration level, equipment operation reliability, component wear resistance, synchronous conveying, mechanical core removal, synchronous cooling, automatic sand addition, standardization level It has obvious progress and advantages in maintenance.
● High productivity, high casting size precision, low noise, low labor intensity, simple assembly line, few auxiliary machines, small area, low process and construction investment, energy saving, is the most advanced and efficient tidal mold sand molding line.
Technical parameters of ky41 series vertical parting automatic molding line without box injection pressure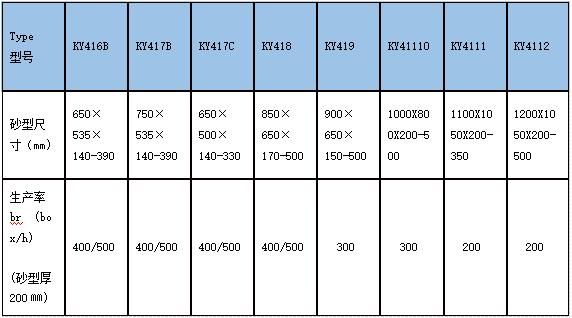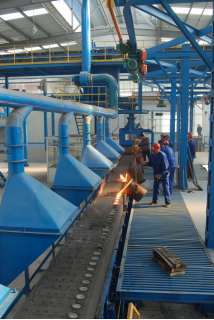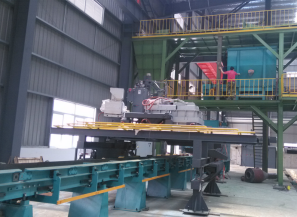 The main components of the molding line : the molding line is mainly composed of a molding host, a sand adding machine, a translational core core machine, a synchronous clamping conveyor, a belt cooler, a sand falling machine, and electronic control, hydraulic pressure, and air control systems. The molding machine adopts the compaction method of sand shooting and hydraulic compaction to realize the sand molding, and at the same time complete the work of lifting, closing and pushing. The sand adding machine completes timing and quantitative sand adding to the host machine. The translation-type core-driving machine realizes fast and accurate online synchronous core -loading , which is an optional item.
Template replacement: set air lock to automatically replace the template. The synchronous clamping / supporting conveyor and the host machine complete the pouring, casting and cooling synchronously. Available in lengths of 12M and 18M . According to the cooling time of the casting, the synchronous belt cooler extends the cooling time of the casting after synchronously clamping the conveyor to prevent the deformation of the casting.
The pouring department can be equipped with a pouring machine to complete automatic pouring, or a ring rail hanging bag supplemented by manual pouring.